About Us
One of the UK's leading full service veterinary laboratories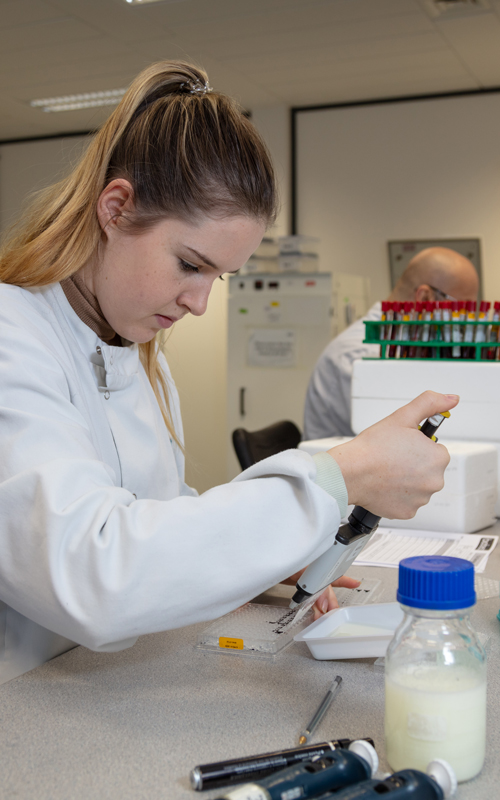 25 Years of Biobest Laboratories
Biobest was founded by Dr David Snodgrass in 1995 when he identified a gap in the market for a private veterinary virology laboratory. Initially Biobest operated as a specialist referral laboratory, only accepting samples via other veterinary laboratories. Quality has remained the fundamental to Biobest's success and, over the years, we have added ISO:17025 and GMP accreditation and are also the largest VMD authorised equine stem cell centre in the UK.
In 2000 David took the bold step of setting up a second laboratory for Biobest, a high containment facility which enabled us to perform rabies testing for the newly created pet travel scheme. This was a truly transformational event in the history of Biobest as the high demand for this test over the years has allowed the business to grow and prosper, eventually becoming a 'one stop shop' for all veterinary laboratory requirements.
Biobest was purchased by the Origin group in 2014 which was subsequently purchased by Vet Partners in 2018. As such Biobest are now part of one of the largest veterinary groups in the UK and have multiple specialist laboratory sites in both Edinburgh and York.
Quality
Biobest operate to a number of internationally recognised quality management systems
Good Manufacturing Practice (GMP)
Biobest hold a GMP Test Site (Biologicals) certificate from the MHRA. This means that we are authorised to perform biological QC testing in accordance with Art. 111(1) of directive 2001/83/EC (or Article 80(1) of Directive 2001/82/EC) transposed in the following national legislation: For human medicines 'The Medicines Act 1968 as amended'; for veterinary medicines 'The current Veterinary Medicines Regulations'; for investigational medicinal products 'The Medicines for Human Use (Clinical Trials) Regulations 2004 (SI 2004/1031)'.  A copy of our current GMP certificate can be found here.
United Kingdom Accreditation Service (UKAS)
Our current schedule of accreditation can be found here.
ISO/IEC 17025:2017
Biobest is accredited by UKAS to ISO/IEC 17025:2017 for diagnostic tests where relevant. Accreditation not only assures the quality of the tests performed by Biobest, it also covers customer service, procedure validation, supplier performance, and organisation management.
VMD ESCC
Biobest are a VMD authorised Equine Stem Cell Centre. This authorisation enables us to prepare autologous mesenchymal stem cells for use in the treatment of tendon and ligament injuries in horses. A copy of our ESCC authorisation can be found here.
The Biobest Team
Our team of veterinary, scientific and administrative staff work together to deliver for our customers
Terms & Conditions
Click here to view our full terms & conditions
Complaints Handling Procedure
Click here to view our procedure on how complaints will be handled
Biobest Laboratories Ltd, 6 Charles Darwin House, The Edinburgh Technopole, Milton Bridge, EH26 0PY, United Kingdom
Tel: +44 (0)131 440 2628
Fax: +44 (0)131 440 9587
Email: [email protected]
DX:Biobest Laboratories Ltd, DX6232500, Penicuik 92 EH