Rabies Testing
Biobest are the main provider of rabies testing in the UK. Our laboratory has been providing this service since the launch of the original Pet Travel Scheme in 1999. We accept samples from customers worldwide and have developed our service to ensure that all customers are provided with an outstanding service at a highly competitive price.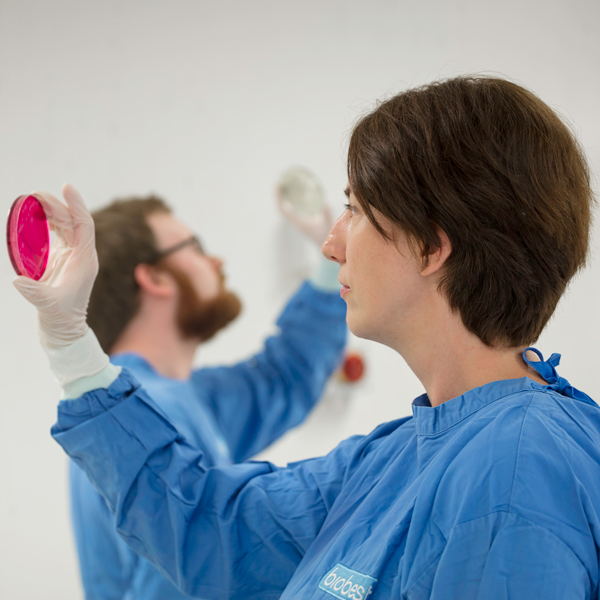 The quality of our rabies testing service is second to none. Biobest routinely participate in the proficiency testing scheme for rabies testing which is organised by the world reference laboratory and have always achieved excellent results compared to other laboratories.
We offer the internationally recognised FAVN rabies test (sometimes referred to as a RNATT test) which is accepted for pet travel throughout the world.
Our rabies serology service is highly competitive and unlike other laboratories we do not have any hidden costs. Our all-inclusive headline price includes:
A standard turnaround time of 5-7 working days from sample receipt
A testing certificate which is reviewed and signed by one of our veterinary surgeons.
Results reported as 'Pass' or 'Fail' along with an antibody titre in iu/ml.
Pre-treatment and re-testing of any samples which are toxic on the original test. Our years of experience in veterinary virology allows us to test samples which other laboratories may reject (e.g. haemolysed or lipaemic samples). Using our standard operating procedures we are confident that we will be able to obtain results for >99% of samples we receive.
Our administrative team are happy to provide help and support for clients sending samples. This can include advice on taking and shipping samples, receiving results, completing paperwork, dealing with courier problems etc.
Our experienced vet team are happy to discuss any test results and provide advice in the case of animals which have failed to achieve the necessary protective level of immunity.
Pet Travel Regulations
There is currently a great amount of uncertainty for UK pet owners intending to travel to EU countries after January 31st 2020, as a result of Brexit.  At present there is no requirement for blood testing as UK pet owners are covered by the EU Pet Passport Scheme.  There is still no clarity about what will happen after Brexit, meaning the only way UK pet owners can guarantee their pet will be able to travel to EU countries after 31st January 2020 is to get rabies blood test certificate.
At present, the UK government has no plans to make changes to requirements for EU pet owners travelling to the UK.  There is therefore no requirement for a rabies blood test certificate.
The USA is a listed country for pet travel, meaning that despite not being part of EU Pet Passport Scheme, American pet owners are not required to obtain a rabies blood test certificate prior to travel to the UK.  Listed country status also applies to a number of other non-EU countries including Australia, Canada, Japan and Russia.  A full list of listed countries can be found here.
India is an unlisted third country for pet travel meaning Indian pet owners are required to obtain a rabies blood test certificate, prior to travel to the UK.  Unlisted third country status applies to all which do not have listed status and generally reflects a higher prevalence of rabies and/or less robust veterinary and administrative systems.  Other unlisted countries include China (mainland), Sri Lanka and the Philippines.
The USA consider the UK to be a low risk country for rabies and as such do not require rabies blood test certificates for cats and dogs entering the country.  The USA is in line with a number of other non-EU countries including Canada and the UAE.
Japan and Australia have strict regulations concerning the importation of pet animals, meaning cats and dogs from the UK need a rabies blood test certificate prior to travel there.  For both countries blood must be drawn between 180 days and 24 months of date of travel.
Procedure Questions
We would recommend blood sampling 30 days after vaccination. For entry into the UK from non-listed countries there is a minimum period of 30 days between vaccination and blood sampling. Regulations for entry into other countries (e.g. Australia) vary and before arranging vaccination and rabies testing it is best to confirm the current legislation with the relevant animal health authority.
We would recommend that the sample is sent to us immediately after collection. If this is not possible serum should be taken from the sample and samples can be stored at -20C for long periods. Antibodies are reasonably stable in a sterile sample and it may be possible to test a sample that has been stored for some time in a refrigerator. Please contact us for advice.
NO - The original certificate with the vet's signature must be sent. A veterinary surgeon must collect the sample and sign the form in ink to confirm that all details are correct.
Payment can be made by sterling cheque, postal order, BACS, cash or credit card. Please note that we no longer accept AMEX cards.
Yes you can bring your samples for rabies testing direct to Biobest from within the UK along with your certificate signed by the vet.  Contact and address details are available here.
We aim to return results 5-7 working days after receipt of samples, however during periods of increased demand this can increase to 10 working days. Results will usually be sent directly to your vet.
A small percentage of animals do fail the first blood test.  In these cases we would recommend that the animal is given a booster vaccination and another blood sample is taken 14-28 days later as this is the time when the maximum antibody response will be present.  Customers should check the regulations for the country they are travelling to, as some countries specify the minimum period between vaccination and blood sampling.
Technical Questions
The term IU/ml means international units per millilitre. This is an internationally recognised unit to quantify rabies antibody levels in blood samples. A level of 0.5 IU/ml is indicative that an animal has protective immunity against rabies and this is the cut-off used for the purposes of international transport of pets.
We test samples at four dilutions, this dilution series ensures that we can give precise titres for samples which are near to the cut off of 0.5 IU/ml. For international travel there is no need to titrate samples with high antibody levels to an end-point so samples are reported as being greater than the upper limit for the particular test. We can titrate strong positive samples to end-point in order to obtain a precise titre but there is an additional charge for this service.
Unfortunately it is not possible to round up results. As described above our test results are based on the number of test wells which contain rabies antibodies. A formula is then used to convert this figure into a result in IU/ml and this is always calculated to 2 significant figures as per OIE guidelines.
Some animals either fail to respond correctly to vaccination or have not been vaccinated prior to testing. In these instances there may be no detectable antibodies to rabies in the sample. In this case every test well will be negative and results will be reported as less than the lowest detectable level of antibody for a given test.
As described above there are only 16 possible results for a sample on any given test. Each test also includes an OIE approved control, a standard canine serum known to have a titre of 0.5IU/ml. As this control is run on every test we can obtain a rolling average result for this serum. This average is then used in a formula which translates the number of positive wells for a given sample to a result in IU/ml. As the rolling average will vary slightly from test to test so the actual numerical results reported for a sample will also vary slightly between tests.