Contract Research
Biobest supplies specialist research, contract and laboratory support services in infectious diseases, clinical pathology and cell culture.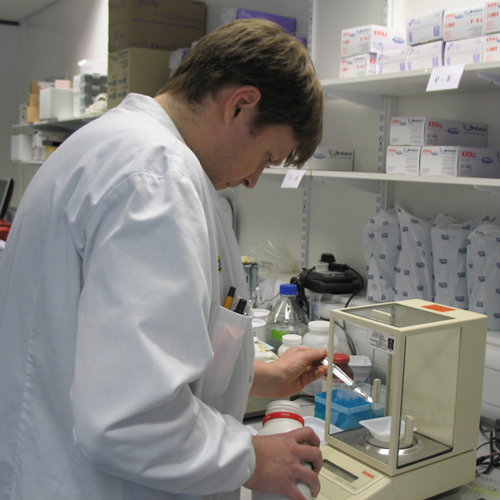 We have experience of conducting the laboratory phase of a wide range of animal health safety, efficacy, marketing and research studies. Where appropriate we work with customers to develop assays and protocols according to specific requirements of any study. Through our contacts in the veterinary industry we can also assist in the development and conduct of the animal phase of studies whether in controlled settings or the field.
Biobest has the capability and experience to provide laboratory testing for studies and contract research in bacteriology, biochemistry, cell culture, molecular biology, parasitology, serology and virology. Contract research services build on Biobest's core skills as a veterinary diagnostic laboratory offering diagnostic tests for companion animals (cats, dogs and horses) and farm animals (ruminants, pigs and poultry). We have experience of testing samples from all over the world and hold general licences to import canine and feline samples from all over the world. We can apply for licences to import samples from other species on a case by case basis.
We can perform safety and efficacy studies in accordance with GLP and GCP. We are a UKAS accredited testing laboratory (No. 2787) and VMD authorised equine stem cell laboratory. We hold a GMP certificate for quality control testing of biologicals. Our laboratory team is committed to providing a customer-focused service.
If you are interested in using our services or finding out more about what we can do for you, please contact us.
Cell culture is a core strength at Biobest, and provides the technical base for most downstream assays in virology and serology.
Facilities
Our current cell culture suite is maintained under constant positive pressure, and is equipped with Class ll biological safety cabinets, fridges, freezers and incubators with and without CO2 atmospheres. A cell banking system uses two liquid nitrogen tanks, maintained in separate rooms for added security.
Staff
Cell culture is managed on a day-to-day basis by a cell culture manager who reports directly to the Chief Operations Officer. A number of staff are trained to work in the unit, many of whom are graduate scientists and have been trained at the European Collection of Cell Cultures at CAMR, Salisbury. Our team has a vast experience in many aspects of cell culture including primary cell culture, stem cell culture, continuous cell culture, hybridoma production, mycoplasma screening and prepration of cell therapies.
Cells
All routine cells are cultured without the use of antibiotics, using a variety of media with additives and serum-free media as appropriate. All cells are tested for the presence of Mycoplasma contamination by both fluorescent Hoechst stain and PCR. We have many mammalian cell lines, semi-continuous cell lines from cattle, primary cells from various species prepared as appropriate, and murine hybridomas. We also propagate equine bone marrow-derived stem cells for a therapeutic use.
Cell culture performance tests
Tests for cloning efficiency, plating efficiency and growth promotion of serum batches are performed on behalf of a commercial client.
Biobest have both the expertise and facilities to produce a wide range of virological reagents for the pharmaceutical industry and customer laboratories. If you have a specific requirement for a virological or related product, please contact us, and we will do our best to supply it to you. Typical virological reagents we can supply include:
Microtitre plates or slides for the detection of antibodies to a wide range of viruses by immunofluorescence or ELISA.
Preparations of infectious virus produced to high titre in tissue culture.
Lysates of viral antigens for use in ELISAs.
Viral antisera, and equivalent control naive sera. These can be raised in a number of species with SPF or gnotobiotic status.
Field sera with a known status for a range of pathogens.
As one of only two laboratories in the UK permitted to handle rabies virus, Biobest is also able to supply fully tested naive and positive sera to rabies virus from a variety of species. Inactivated rabies related antigens are also available.